This blog is about family travel around the world without leaving the UK. Impossible? No. Here's how to get that crowded Alpine feeling in a London meadow. This post is by Nicola Baird (see www.nicolabaird.com for more info about books and blogs)
I've written about walking the Capital Ring on a
recent post
, but on this weekend's bid to complete the 75-mile footpath the author
Colin Saunders
made me laugh with a photo captioned:
"You could imagine yourself transported to the Alps as you approach the mountain hut at the top of Oxleas Meadow."
I was looking forward to this, not least because it means I don't need to pop over to Beckton to climb the old waste spoil site from the gas works, better known as the Beckton Alps (for more good ideas about trips around London, low and high points see this interesting
blog
).
So when we did reach the famous view of the cafe - as you can see from my photo - it really did look like the Alps at its busiest as there were 150 walkers taking a breather at the top of Oxleas Meadows. In theory it's a good place to stop - one of the highest spots on the Capital Ring footpath boasting views over South-East London and away to the North Downs. It's just normally there aren't so many people here in kagouls and backpacks. We'd let the walkers surge in front of our modest group of four as I picked up a dog poo at the top of the wooded hill that winds down and then back up to the so-called mountain hut.
We thought we'd lost them. But even in "mountains" that are almost offering a Swiss/Italian/Austrian/Slovenian/Croatian/Bosnian/Servian/Montenegran view (see map below) this isn't easy...
I love walking, and I love everyone else walking - but crucially walkers aren't allowed to walk at the same time as me! This is a
family failing:
my dad was such a misanthropist that we
only really went out on long walks when it was raining hard.
I'll never forget the wet Sunday when this unluckily coincided with a sponsored walk (of hundreds of ramblers) heading in the other direction. How my Dad cursed them!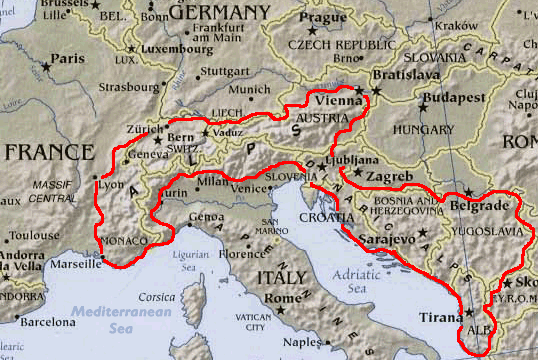 On this occasion I got so panicked by the crowds (fearing we might be associated with them) that I managed to fall into a muddy ditch, and lose the dog lead. I managed to find the lead but when I returned to where Nell had been guarding my rucksack was told that another dog had just come up and wee'ed over it. Lovely. And then somehow Nell's hot chocolate (fortunately cooling) got tipped over our dog...
No wonder my kids were
laughing at the self-inflicted misfortunes
caused by my fear of being made to step along with a crowd.
Over to you
Are there places you love but don't go to when the weather is good, simply because you too loathe the crowds, or change of atmosphere? Or is this just silly?